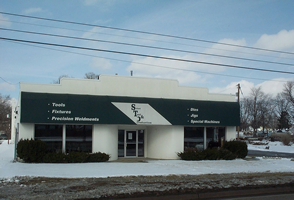 Select Tool is a small family operated job shop located in Toledo Ohio that
started in 1973. Our 15,000 sq. ft. facility and wide array of machinery allows
us to handle small jobs and production runs as well.
One of our main products is tube mill tooling in the cut-off area such
as die jaws, die guides and complete die sets including rework and sharpening.
Other tubemill items we commonly manufacture are mill shafts, dedent plugs,
strippers, mandrels, star wheels, tally wheels, stands, spacers, strip guides,
entry tables, attribute gages, and many other parts made per customer specs.
We also specialize in checking fixture design & build. We custom manufacture
attribute as well as SPC fixtures for many industries including automotive and
glass container manufacturing. We design per GD&T and customer specs. All
of our automotive fixtures are certified via an independant third party A2LA
certified lab or equivalent.
We serve many other industries via CNC machined components, custom fabrications
and special machinery. We utilize CAM software for programming all of our CNC
machinery and solid modeling for all of our designs.